Tube mill manufacturer in China
Categories: Contor News
Stars: 3Stars
Visit:

-
Release time: 2020-01-21 10:15:00
As a flying saw machine manufacturer Contor usually required to introduce the tube mill manufacturer from China. Some tube mill manufacturers in China, we have cooperated with them for more than 20 years. They purcahse the flying saw from Contor then export the whole pipe making line to the clients worldwide with the high quality and better price.
Till now, there are more than 5000 sets contor flying saw machine all over the world. Many thanks our good friends (tube mill manufacturers) many years cooperation.If you want to but the new tube mill and flying saw kindly email us: flyingsaw@scontor.net. In the email inform us the tube size and material, thickness, max. pipeline speed.Contor is happy to help you contact the tube mill or other machines manufacturer in China.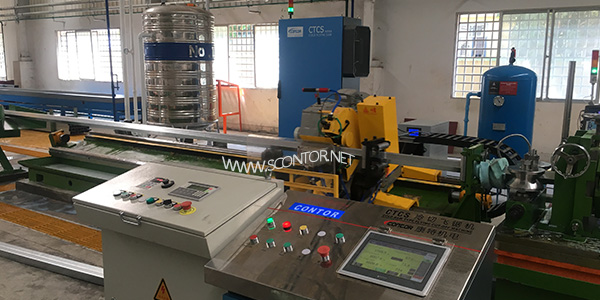 Since 2017 year, contor develop a new type flying saw machine, which is timming belt flying cold saw. Compared with the old type pinion and rack one, timing belt flying saw machine adopts Elatech timming belt, install the drive motor on the lathe bed,so that the weight of the sawing cart is too light, in order to increase the sawing speed.Timing belt flying cold saw speed is 20% higher than the pinion and rack one.Till now contor had sold more than 200 sets timing belt flying cold saw worldwide.